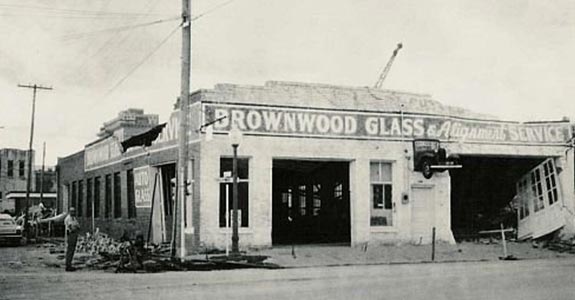 These days, you don't find too many businesses that have been around for as long as Brownwood Glass & Alignment! Founded in 1907 as a blacksmith shop, our humble beginnings can be traced back to the manufacturing of wagon wheels, before automotive demands were even considered. And, as the times changed to accommodate early model cars, our business also changed to support the wheel and alignment needs of these vehicles.
Today, we're proud to maintain a longstanding reputation that spans the better part of a century and our modern repertoire of services is aimed at satisfying the needs of drivers with brake services, wheel alignments and auto glass services. Take a look at just how far we've come and how our dedication to keeping drivers safe and happy has led us to be one of the most respected dealers of tire products in Brownwood, Brown County, Early, or Bangs, TX:
Our staff and history
The early years: "RW Coggin and Company" was established in 1936 by Jay McCullough and RW Coggin, two proprietors who realized the need for quality auto services in a rural area of Texas that was quickly growing to see more motorists. Built atop the site of the original blacksmith shop, this new business was the first to feature an alignment machine,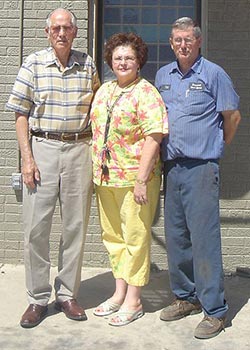 with a more advanced machine and pit installed shortly after in 1941.
A name change and service addition: In 1946, Floyd White (now retired) went to work for Jay McCullough and four years later, the shop was renamed "Brownwood Glass & Alignment." Soon after, Jay McCullough sold out to RW Coggin and Floyd White began doing automotive glasswork in 1952. Also during the 1950s, RW Coggin (who had done auto glass work and who provided automotive upholstery service) retired and Ed Morgan became the owner/manager of the shop.
Moving the business home: Big things happened in 1968, as the shop had to be torn down. During the bulldozing of a nearby building, debris from the demolition accidentally collapsed a wall of Brownwood Glass & Alignment! After the incident, Ed Morgan spoke with Floyd White and offered to sell him the business. At this point, Floyd relocated to our current location, purchasing the building from a Mr. Wilson (Wilson's Truck Service) and became the proud owner of Brownwood Glass & Alignment.
Modern services and staff: Once the new shop was opened, Ed Morgan went back to work for Floyd White. Don White followed in his father's footsteps in 1970, as he began part-time employment at Brownwood Glass & Alignment at this time. In 1971, Don came aboard full-time, working alongside Floyd and Ed Morgan and in 1985, Jody Kirkland joined the crew and worked until 2000 before moving out of town. Finally, in 1994, Floyd retired, and Don and his wife, Regena, assumed ownership of Brownwood Glass and Alignment.
Which brings us to today! After more than 100 years of stellar service, we aim to see another 100 years in business, carrying with us the reputation that has led us this far, through so many exciting times along the way. To learn more about our many years in business and all that we've been through, contact us today at 325-646-0435 today!