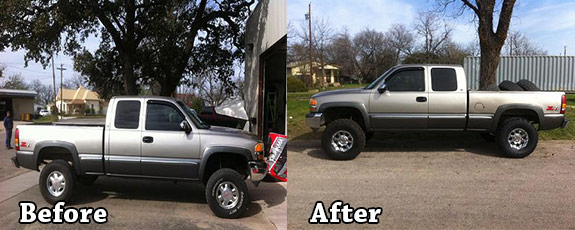 When it comes to ensuring that your vehicle is resting on a suspension system that's properly aligned, comprised of components that are of only the highest quality, Brownwood Glass & Alignment is your premier source for tire repair in Brownwood, Brown County, Early, and Bangs, TX. From your tires themselves to brakes, struts and rotation and tire alignment services, we're proud to be masters of our craft and will ensure optimal results no matter your need for tire services. Buy tires from us today!
Tire alignments: Tire alignments are our specialty and we use state-of-the-art equipment to ensure a precise alignment on your vehicle. We'll assess the current misalignment of your vehicle to make proper adjustments that bring your camber, caster and toe back to the perfect levels. Through our comprehensive wheel alignment services, we can help you to reduce wear on your tires, giving you peace of mind in driving atop a system that's calibrated for sustainability.
Tire Sales: Having the right tires on your vehicles makes all the difference in the world when it comes to getting the best gas mileage, traction and lifespan—let our professionals help you to determine the current wear of your treads and make recommendations for your next set of tires. Our selection of brands is unbeatable and we have the knowledge necessary to install your new tires quickly, giving you the peace of mind you need when barreling down the road.
Tire rotations: To get the most life out of your threads, let us rotate your tires in regular intervals. Combined with our exceptional wheel alignment capabilities, we'll help guarantee longer tread lives, better traction and even wear. And, better still, all vehicle tires we sell come with free rotation and free flat tire repairs for the life of the tire!
Flat tire repairs: If you've encountered debris that has led to a flat tire on your vehicle, let us attempt to repair the damage before you invest in a brand new set of treads. We're adept at patching holes, replacing liners and repairing treads, to help get you the most mileage out of your tires—even if they've been victimized by hazards on the road.

In serving your chassis-related needs, we're also proud to stand behind some of the best brands available on the market today. Our inventory selection spans a number of providers, all renowned for their quality of tire products and exceptional road reputation:
We are also proud to offer STI's complete line of ATV and UTV tires, to those off roaders who want to get the most out of their all-terrain vehicles!
Custom wheels and orders
Do your needs span beyond the general range of wheel-related tire services? Are you seeking to buy tires at competitive price points? Brownwood Glass & Alignment sells and services tires for any size vehicle, from small compact/sports cars to larger 18-wheelers and mobile homes. We are also able to special order tires for outdoor equipment, such as lawnmowers and tractors.
We are proud to offer wholesale tire pricing and sales, but please note that these tires will not come with free rotation, free balancing or free flat repairs. We also will be unable to offer road hazard warranty on any tire sold at wholesale cost. Mounting and balancing services on these tires are optional and will require an additional fee if desired.
For more information regarding our vast depth of chassis experience or to learn more about our tire products, auto glass repairs, and brake services in Brownwood, TX, contact us today at 325-646-0435.